WD My Cloud EX4100

4-Bay Expert Series Network Attached Storage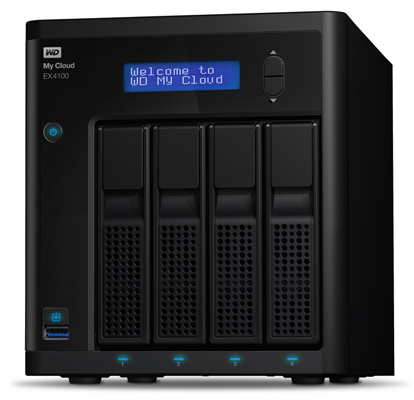 MY CLOUD BUS EX4100 SERIES NAS
Capacity: 0 TB
Interface: Gigabit Ethernet x2
MY CLOUD BUS EX4100 SERIES NAS
Capacity: 8 TB
Interface: Gigabit Ethernet x2
MY CLOUD BUS EX4100 SERIES NAS
Capacity: 16 TB
Interface: Gigabit Ethernet x2
MY CLOUD BUS EX4100 SERIES NAS
Capacity: 24 TB
Interface: Gigabit Ethernet x2
MY CLOUD EXPERT SERIES EX4100
Capacity: 32 TB
Interface: Gigabit Ethernet x2
Overview:
Powerful, ready-to-go NAS for your high-performance life.
The My Cloud EX4100 is a high performance and high capacity NAS server for SOHO and home users that is well suited for centralizing media and files in one location, accessing and sharing photos, videos, and files from virtually anywhere with computers, smartphones, and tablets, HD media streaming to Smart TV's, gaming consoles, and media players, comprehensive backup solutions, and more.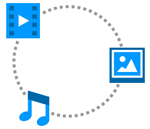 Centralized Storage
Store and organize your photos, videos, music, and files in one safe place. Access and share them virtually anytime, from anywhere.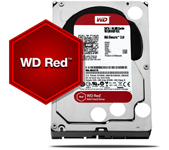 WD Red NAS drives
The My Cloud Expert Series comes populated with WD Red NAS hard drives, which are built for NAS systems. WD Red drives help to improve performance and thrive in 24x7 environments.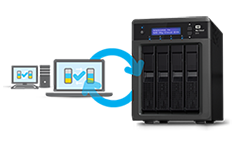 Multiple RAID Options
Armed with multiple RAID options, you have the power to customize the system with the configuration that works best for you. Choose RAID 1, 5, 10 or select from spanning and JBOD modes for even more options to manage your data.
The My Cloud EX4100 is pre-configured for a user-friendly setup and system management. It also has an intuitive dashboard that helps guide you through the process of setting up users and shares, as well as customizing system features and monitoring storage. It also features a toolless and trayless drive bay design and drive installation, helping to simplify the hot swap process.
This NAS is powered by a 1.6 GHz Marvell ARMADA 388 Dual-Core processor, which will allow you to run multiple functions simultaneously. The built-in 2GB of DDR3 RAM will allow quick access to frequently-used files and programs, and network connectivity is achieved via the 2 x Gigabit Ethernet ports. Having 2 x Gigabit Ethernet ports not only provides network redundancy in the event that one port fails, but it also provides link aggregation to help enhance network performance and provide an enhanced HD media streaming experience. This NAS also has 3 x USB 3.0 ports.
The My Cloud EX4100 features four SATA drive bays that can accommodate 3.5" drives and use NASware technology. If users opt to use WD Red drives with this NAS, NASware technology helps to further optimize WD Red drives for the NAS environment in respect to factors such as vibration compensation, optimized power usage, and data protection in the case of a power loss or disruption. However, please note that this NAS does not include any drives, leaving users the freedom to install compatible drives of their choice.
This WD NAS also features AES 256-bit encryption that helps provide additional protection for your data, and RAID 0, 1, 5, 10, JBOD, and spanning can be used to configure various levels of data performance or redundancy. As this NAS features a built-in processor, this means that should a user wish to take advantage of the RAID functionality, the RAID controller is integrated into the NAS and thus RAID functionality will be controlled by the NAS and its hardware, instead of being controlled by software.
The My Cloud EX4100 operates on 100-240 VAC at 50-60 Hz and includes an Ethernet cable and a power cord. It is compatible with Windows 8.1, 8, 7, and Vista, as well as Mac OS X Yosemite, Mavericks, Mountain Lion, and Lion.
Features:

Save all your valuable photos, videos, music and files on this ready-to-go, high-performance NAS solution for secure access to them anytime, from anywhere. Protect your content with multiple backup options, customize your NAS with a full suite of apps and enjoy peace of mind knowing that we've put our best in it, so you can put your best on it.

Centralize your media and content in one safe, organized place
Whether you're a creative hobbyist, creative professional or have an impressive media collection, you will undoubtedly have loads of digital content to store. With My Cloud Expert Series NAS, you can easily centralize and protect your valuable content from all the PC and Mac computers on your network. Plus, access it anytime, from anywhere with tablets and smartphones.


Get power that keeps up with your passion
Powered by a strong Marvell ARMADA 388 1.6 GHz dual-core processor, My Cloud EX4100 gives you ultra-fast transfer speeds of 116 MB/s upload and 116 MB/s download to keep up with your high-performance needs. Now you can upload more content simultaneously, stream your HD media more smoothly, and enjoy your creative life with ease.
Gigabit Ethernet Testing environment based on Dell Optiplex 9020 (SFF) with Intel Core i7, 8GB RAM running Windows 8.1 Pro using an Intel X540-T2 10G Ethernet connection. Performance may vary based on different hardware / software configurations as well as network load during testing.


Stream like a pro
With the built-in Twonky DLNA-certified media server, you can seamlessly stream all your HD videos, photos and music stored on your My Cloud Expert Series NAS to media players, Smart TVs, gaming consoles and other DLNA-certified devices on your network. It's an easy way to enjoy your media collection on the biggest screen in your house.





Safeguard your content with comprehensive data protection
My Cloud EX4100 keeps your irreplaceable photos, videos and files safe with multiple data protection options to secure your content from unexpected loss. Protect all the PC and Mac computers on your network using local, remote or cloud backup. Multiple RAID configurations and volume encryption add even more protection and security for all your files.



Be up and running in minutes
My Cloud EX4100 comes preconfigured to get you set up and on your way without any hassle. The intuitive dashboard guides you through the process of setting up users and shares, customizing system features and monitoring your storage. And with a toolless and trayless drive bay design, drive installation and hot swap is effortless.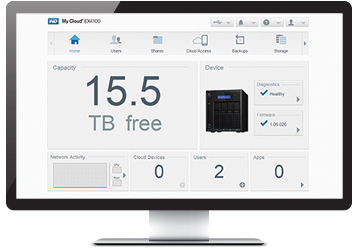 Built-in reliability for added peace of mind
My Cloud Expert Series pre-configured NAS come populated with WD Red NAS hard drives. Ultra-reliable and purposely built for NAS systems, WD Red drives improve performance and thrive in 24x7 environments.
WD's exclusive NASware™ technology further optimizes WD Red for the NAS environment. From vibration compensation, optimized power usage and protecting your content in the event of a power loss or disruption, the firmware is designed to give you improved reliability and system performance.
Get enhanced media streaming and network redundancy
Dual Gigabit Ethernet ports for link aggregation enhances network performance giving you the best possible HD media streaming experience. It also provides for network redundancy should one of your network connections fail.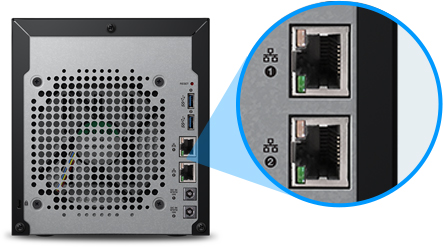 A power supply with a backup plan
My Cloud EX4100 comes equipped with dual power ports offering you the option of adding a second external power supply that will take over should the first power supply fail, giving you uninterrupted access to your content.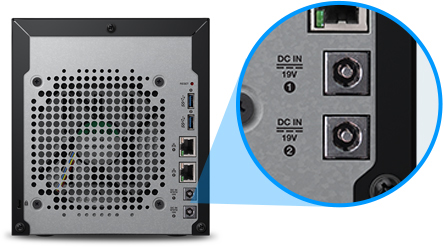 My Cloud OS - content management made simple
WD's My Cloud OS delivers a suite of tools and apps that empower you to easily take control of the content that matters to you most. The intuitive, easy-to-use dashboard makes set up, managing storage and personalizing your NAS effortless. Our award-winning My Cloud app allows you to securely access and share your files from anywhere with computers, tablets and smartphones. And with popular third-party apps available for download, you are enabled to customize your NAS to best fit your needs.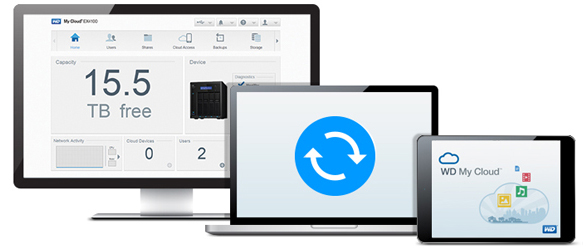 Automatically copy your external USB with the touch of a button
With the built-in, one-touch copy button conveniently located on the front of the NAS, you can automatically copy all the photos, videos and music you have stored on an external USB or camera to the My Cloud EX4100, keeping all your media and files in one safe, central location.
Save on energy automatically
My Cloud EX4100 comes equipped with drive sleep mode, LCD and LED on/off and power scheduling capabilities to save power and runtime energy.
Professional-grade features
iSCSI target and initiator
Integrated FTP and WebDAV server
Integrated SSH Secure Shell
Link aggregation and network redundancy
Dual power ports for failover support
Jumbo frame support
IPv4 and IPv6
UPS support (USB and network)
Real-time resource monitor
SNMP
Microsoft Active Directory support
Energy-saving options
My Cloud OS: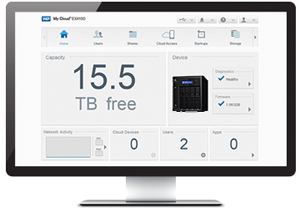 My Cloud OS delivers a suite of tools and apps that empower you to easily take control of the content hat matters to you most. From setting up the device to file sharing and collaboration, My Cloud OS makes managing and using your NAS a breeze.
Seamless setup and management
The intuitive dashboard guides you through the process of setting up users and shares, customizing system features and monitoring your storage. Plus, mobile alerts keep you informed on the status of your My Cloud Expert Series NAS.
Mobilize your media
From anywhere in the world, you are always connected to your My Cloud Expert Series NAS with the My Cloud mobile and desktop apps. The award-winning mobile app allows you to securely access your content using smartphones and tablets, and easily share it with family, friends and colleagues. With the desktop app for PC and Mac computers, you can easily drag and drop files, manage your content and share links to photos, videos or folders via email.

Experience your media in a whole new way
Media View delivers a more engaging way to view and search your photos, music and video content. Simply select a media icon to quickly view all of that content, or select to view by date or album.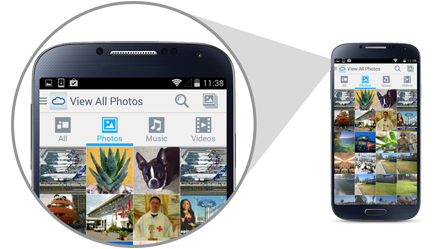 Take your music on the road
With the My Cloud mobile app, you are always plugged in to your favorite artists, playlists and songs. Centralize your entire music library on your My Cloud at home and access it when you're on the go. Select your favorite playlist and while you're listening, search for your next jam so you don't skip a beat.
Customize your NAS with popular third-party apps



aMule
Free peer-to-peer file sharing application that works with the EDonkey network and the Kad network. The app provides search capability for finding desired P2P files and has a full-featured P2P server/client Web UI interface.

Icecast
Open source media streaming app that can be modified to suit your individual needs.

phpBB
One of the leading bulletin board solutions, including powerful permission systems, private messaging, search functions, a customizable template and language system, as well as support for multiple databases.

Joomla!
Content Management System (CMS) that facilitates easy management of your website text, photos, videos, music and documents.

SqueezeCenter
Streaming audio server that supports MP3, FLAC, WAV, Ogg, ACC, as well as transcoding. Stream to both hardware and software receivers as well as any media player capable of playing MP3 streams.
phpMyAdmin
Handles the administration of MySQL via web with ability to create and drop databases; create, drop, or alter tables; delete, edit or add fields; execute any SQL statement and manage keys on fields.

WordPress
WordPress is a free and open source blogging tool and a content management system (CMS) based on PHP and MySQL. Create your own My Cloud EX2 based customized Blog that can be accessed and commented on from any internet connection.

Transmission
Transmission is one of the best choices for a BitTorrent client, being both extremely lightweight and feature-packed. Transmission's interface is easy to use, yet very powerful, especially when it comes to managing bandwidth.
Advanced Features:

Advanced Backup
My Cloud Expert Series provides comprehensive data protection options to secure your content from loss.


Backup that's right for you
Automatically backup all the computers on your network and get flexible restore points for file version recovery. PC users, WD SmartWare™ Pro offers options for how, when and where your files get backed up. Mac users, utilize all the features of Apple Time Machine backup software to protect your media and files.


Back up to integrated cloud solutions

ElephantDrive is a premium cloud-based backup, sync and sharing solution platform. With simple, fast and reliable protection for all of your important files, ElephantDrive is the perfect solution for users at any level. ElephantDrive's software runs on all personal devices (laptops, desktops, smartphones, etc.) as well as natively on NAS devices, where it is the leading solution in the space.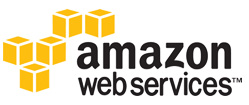 Amazon S3 Backup and Restore feature allows you to back up data directly to your Amazon S3 account. Amazon S3 gives you peace of mind when used as an offsite backup, should anything happen to the data stored on your My Cloud EX2.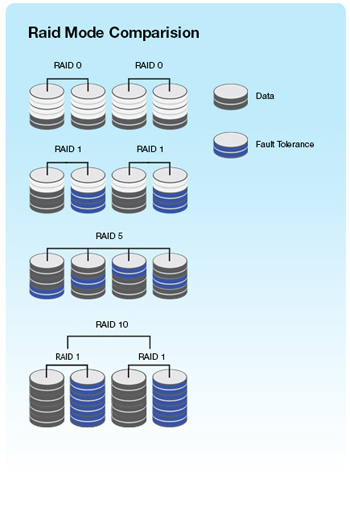 RAID 0 - Speed
RAID 0 mode provides disk striping across all drives in the RAID drive group. RAID 0 does not provide data redundancy but does provide the best performance of any RAID levels. RAID 0 breaks up data into smaller segments and stripes the data segments across each drive in the drive group.
RAID 1 - Data protection
Set the system to data protection mode (also known as mirrored mode or RAID 1) and the capacity is divided in half. Half of the capacity is used to store your data and half is used for a duplicate copy. If one drive goes down your data is protected because it's duplicated.
RAID 5 - Data protection and speed (available on 4-bay NAS)
In systems with three or more drives we recommend that you set the system to RAID 5. This gives you the best of both worlds: fast performance by striping data across all drives; data protection by dedicating a quarter of each drive to fault tolerance leaving three quarters of the system capacity available for data storage.
RAID 10 or RAID 1+0 - High reliability with high performance (available on 4-bay NAS)
RAID 10 delivers very high I/O rates by striping RAID 1 (mirrored) segments. This RAID mode is good for business critical database management solutions that require maximum performance and high fault tolerance. A system set to RAID 10 yields half the total capacity of all the drives in the array.
JBOD & spanning
JBOD is the use of one or more drives not in a RAID configuration but managed as separate logical volumes. Spanning is the combination of drives in a linear fashion to create one large logical volume. The advantage of using this mode is that you can add more drive without having to reformat the system.



Professional-grade Features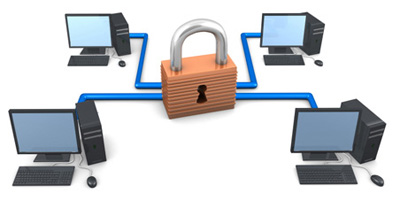 User management/group management
With My Cloud Expert Series, it is easy to grant users access to the NAS, create groups and give access to those groups, and manage the amount of storage users/groups have access to.
Microsoft Active Directory support
Add My Cloud Expert Series to your Active Directory (AD) server for simplified and centralized management, as well as easy access for colleagues with one set of domain accounts. Everyone can use a single account to access various services with ease.
Distributed File System (DFS) 
Connect My Cloud Expert Series NAS to a Microsoft Windows server to organize many distributed SMB file shares into a DFS for improved data availability in the event of failure or heavy workloads.
Volume virtualization using iSCSI targets
Manage storage over long distances and transfer data over LANs, WANs or the Internet by creating a Storage Area Network (SAN). My Cloud Expert Series NAS allow you to create and manage iSCSI targets, similar to a local hard drive, that is accessed over a network rather than locally. The iSCSI target is protected by the underlying RAID structure of the My Cloud Expert Series NAS.
Jumbo frame support
My Cloud Expert Series support jumbo frames up to 9000 bytes. These large IP frames are used to increase performance over supported networks. Increases in data transfer speeds only occur if every device on your network supports jumbo frames.
Link aggregation and failover support
Combine multiple network connections to increase data transfer past a single connection and provide redundancy in the event of a failed connection. This is also known as bonding, and refers to the use of two LAN NICs present in your NAS and two cables connected to your router simultaneously, improving reliability.
iPv6 ready
My Cloud Expert Series support iPv6, keeping your NAS up-to-date with the latest Internet Protocol.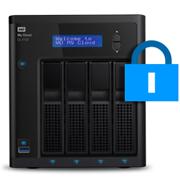 UPS support (USB and network)
USB UPS: A supported UPS device that is connected to a My Cloud Expert Series NAS via USB cable can detect a power loss and gracefully shut down power.

Network UPS: Network UPS devices can be used when there is a single UPS device and multiple My Cloud Business Series units. One My Cloud Expert Series NAS can act as a "Network UPS server" and connect to the UPS device via USB or network (depending on the device). The network UPS server obtains UPS information and relays it to the other "client" Expert Series NAS.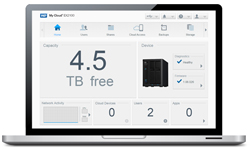 Real-time resource monitors
Provide up-to-date information on My Cloud Expert Series resources, including CPU percentage, network utilization and RAM usage.
Virtual volumes
Virtual volumes simplify scalability by allowing you to map iSCSI targets on other network storage devices and present them as shares on your My Cloud Expert Series device.


SNMP
Simple Network Management Protocol, a protocol for managing devices on a network, allows My Cloud Expert Series NAS to be used in a managed environment. IT administrators who need to monitor multiple network devices, including My Cloud Expert Series via SNMP should download the document available.
Energy-Saving Features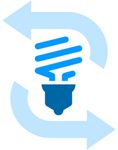 Disk spin-down
Set disk spin-down after as little as 10 minutes, saving runtime energy.
Wake-on-LAN
Use WD Quick View to wake My Cloud Business Series NAS without having to physically push a button.

Automatic power recovery
This feature automatically restarts the My Cloud Business Series NAS from an unexpected power-failure shutdown.
Scheduled power on/off
Set your own customized schedule to power on your My Cloud Business Series NAS on a daily basis to save power when not in use.
Advanced Serving
File server
Get shared storage for PC and Mac computer files that can be accessed from other workstations that are on the same network.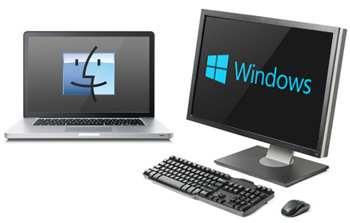 FTP server
The fully-featured FTP server manages server to manage the transfer of files from My Cloud Business Series to a client with the following capabilities:
FTP bandwidth restriction (upstream/ downstream)
IP address block (block access from undesired IP address)
IP address block time limits
Anonymous FTP
Secure FTP support
Support File eXchange Protocol (FXP)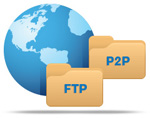 P2P download server
Utilize popular Peer-2-Peer services to download torrents.
Http download server
The built in HTTP download server allows you to download files directly from the web to a My Cloud Business Series NAS.
Back up server
The My Cloud Business Series backup server is designed with flexibility in mind. Designate a back up to or from a connected USB drive or internal volumes.
Compatibility:
Hard Drive Compatibility List
10,000rpm drives are not supported.
Manufacturer
Family
Model
Interface
Speed
Capacity
WD
WD Red
WD20EFRX
SATA 6Gb/s
IntelliPower
2TB
WD
WD Red
WD30EFRX
SATA 6Gb/s
IntelliPower
3TB
WD
WD Red
WD40EFRX
SATA 6Gb/s
IntelliPower
4TB
WD
WD Red
WD50EFRX
SATA 6Gb/s
IntelliPower
5TB
WD
WD Red
WD60EFRX
SATA 6Gb/s
IntelliPower
6TB
Uninterruptible Power Supply
Manufacturer
Family
Model
APC
Smart-UPS
SMC1000
APC
Smart-UPS
SMT750
APC
Back-UPS ES
BE500TW
APC
Back-UPS ES
BE550G
APC
Back-UPS Pro
BR1500G
CyberPower
Smart App LCD UPS
OR500LCDRM1U
CyberPower
Intelligent LCD UPS
CP1500AVRLCD
Tripp Lite
Battery Back Up Tower AVR UPS
Smart750USB
Tripp Lite
Smart USB UPS
Smart550USB
Specifications:


Examples of the number of photos, songs, videos and any other files that can be stored on a hard drive are provided for illustrative purposes only. Your results will vary based on file size and format, settings, features, software and other factors.
Photo: Figures represent the average number of photos taken with a 6 megapixel camera in high-resolution JPEG mode with an average file size of 3.5 MB per photo. The actual number of images will vary by camera model and compression setting.
Hours: The DV format, regardless of its mode (miniDV, DVCAM, DVC-Pro) has a data rate of approximately 25mb/s (mega-bits per second). In storage terms, this translates to approximately 3.5MB/s (Megabytes per second) or 13GB/hr (Gigabytes per hour)
Song: Music capacity is based on 4 minutes per song. MP3 capacity is based on 128 Kbps bit rate and 11:1 audio compression ratio. Uncompressed CD quality is based on 1:1 audio compression ratio.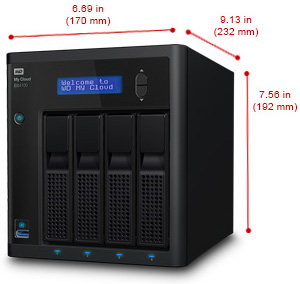 As used for storage capacity, one megabyte (MB) = one million bytes, one gigabyte (GB) = one billion bytes, and one terabyte (TB) = one trillion bytes. Total accessible capacity varies depending on operating environment. As used for buffer or cache, one megabyte (MB) = 1,048,576 bytes. As used for transfer rate or interface, megabyte per second (MB/s) = one million bytes per second, megabit per second (Mb/s) = one million bits per second, and gigabit per second (Gb/s) = one billion bits per second.
Drive Size
0 TB
8 TB
16 TB
24 TB
Model Number
WDBWZE0000NBK
WDBWZE0080KBK
WDBWZE0160KBK
WDBWZE0240KBK
Interface
Gigabit Ethernet x 2
Power supply (DC in) x 2
USB 3.0 expansion port x 2
Drive bays
4 x 3.5 inch hard drive bays, hot swap capable, tray-less design
Internal Hard Drives
WD Red NAS hard drives
Processor
Marvell ARMADA 388 1.6 GHz dual-core
Memory
2 GB DDR3
System Requirements

Windows 8, Windows 7, Windows Vista, Windows XP (SP3) operating system
Mac OS X Yosemite, Mavericks, Mountain Lion, or Lion operating systems
DLNA/UPnP devices for streaming
Internet connection for remote access

Supported Web Browsers

Internet Explorer 10 or higher
Safari 6 or higher
Firefox 30 or higher
Google Chrome 31 or higher on supported Windows and Mac OS platforms

Network Protocols

DHCP Client or Static IP
NTP Client
Dynamic DNS (DDNS)
Apple Bonjour and Windows Rally
Jumbo frame support up to 9K
VLAN (802.1Q)
Link Aggregation(802.1ad)/ Ethernet teaming and failover for 2 Gigabit Ethernet ports
UPnP port forwarding
IPv6
iSCSI
SSH

Network File Services

OS Supports

Windows XP Home/ Pro/ 64-bit SP3+
Windows Vista/ 7/ 8 (All versions)
Mac OS X 10.6, Lion, Mountain Lion

CIFS/SMB for Windows, Mac OS X and Linux
NFSv3 for Linux and UNIX
AFP for Mac OS X
Microsoft Distributed File System (DFS)
WebDAV Server

Backup Management

Remote backups: My Cloud Expert Series to My Cloud Expert Series locally or remotely
Apple Time Machine (10.5.8+) support
Backup internal files or folders of the device to other files/folders on the NAS
Cloud-based backup services

Amazon S3
ElephantDrive (http://home.elephantdrive.com/)

Disk sync management for the attached USB ports

Disk Management

RAID: JBOD, spanning, 0/1/5 10/5 + hot spare support
RAID migration

JBOD to RAID 1
JBOD to RAID 5
RAID 1 to RAID 5

Hot swapping
Hot spare (in four disk mode)
Disk roaming
Array roaming

Security

Active Directory support for Windows Server
Volume Encryption (256 bit AES)

File System

EXT4 for internal HDD
Support following formats for externally attached USB drives

FAT/FAT32
NTFS (read and write capability)
HFS+J (case sensitive)
Linux EXT2, EXT3, EXT4

FTP Server

Support Port Setting
Set port range of passive FTP
Option to report external IP in PASV mode
Client language selection
Anonymous FTP
Secure FTP Support
Support File eXchange Protocol (FXP)
FTP bandwidth restriction (upstream/downstream)
IP address block (block access from undesired IP address)

Download Management

HTTP downloads from a URL to a user specified folder on the NAS
FTP downloads of files or folders from an FTP server to another files/folders on the NAS
P2P Download Manager

Power Management

Drive Spin Up/Down (including Attached WD USB drives)
Automatic power recovery (with UPS)
Schedule power on/off
Graceful shutdown on UPS low battery
FAN Control
Network UPS
Wake On LAN

Remote Access

My Cloud and WD Photos mobile app
My Cloud desktop app

User/Group Management

Max No. of Users: 512 for Samba, 800 for ADS
Max No. of User Groups: 64 for Samba, 200 for ADS
Max No. of Network Shares: Max No. of Network Shares: 128
Max concurrent CIFS connections: 10
User/Group assignment for network sharing/FTP
Quotas for groups or users
Assignment of users to multiple groups
Batch assignment of users to groups
Batch user creation
Importing users (CSV Delimited Format)
Importing groups (CSV Delimited Format)

System Management

LCD display information:

IP Address of connected server (and friendly name)
Fan monitor
System temperature monitor
Disk monitor
Disk volume monitor
Ethernet plug monitor
Device uptime
Capacity remaining
Firmware version

System status: Device Information

Capacity usage status for the external storage
File category breakdown of how much video, photo, music is stored

Alert notifications

Event UI message
UI Alert (with message acknowledgment required)
Email notice
QuickView pop-up message
RED LED status

Network recycle

Support Windows CIFS
Support Apple AFP

System/FTP Log (Syslog Client)
HTTP/S (Web) Administration Interface (HTTP Server)
Firmware upgrade
Configuration backup and restore
SNMPv2
System Information

CPU percentage
RAM usage
Network performance in MB/s

USB Port

Support UPS monitoring
Support External Storage device
Support MTP (Media Transfer Protocol) and PTP (Picture Transfer Protocol)

Media Streaming

UPnP AV Media server (Twonky)
DLNA certification
Support WD TV Live, Xbox 360, PlayStation 3, Windows 8, connected TVs, Blu-ray players and digital picture frames
iTunes Server

Add-on Support

aMule - peer to peer file sharing application
Icecast - media streaming app
phpBB - Internet forum application
Joomla! - content management system
SqueezeCenter - streaming audio server
phpMyAdmin - My SQL administration tool
WordPress - blogging tool and content management system
Transmission - BitTorrent client

iSCSI

iSCSI Target

CHAP authentication
iSNS (Internet Storage Name Service )
Up to 64 iSCSI Targets

Volume Virtualization: NAS can be configured as an iSCSI initiator and capable of mapping any iSCSI target of the other device to be one virtual volume.

Virtual Disk Drive (via iSCSI Initiator)
Max number of virtual disk drives supported is eight (8)

Power Supply

Input voltage: 100V to 240V AC
Input frequency: 50 to 60 Hz
Output voltage: 19V DC, up to 6.32A

LCD Panel
2 lines of 16 characters for status and alerts
Operating Temperature
0° C to 35° C ( 32° F to 95° F)
Non-Operating Temperature
-40° C to 70° C (-40° F to 158° F)
Height
7.56 in (192.00 mm)
Length
9.13 in (232.00 mm)
Width
6.69 in (170.00 mm)
Package Contents

NAS
Ethernet cable
Power supply and cable
Quick Install Guide
Drive Views: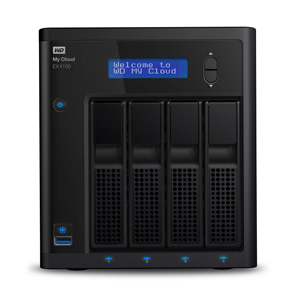 Front View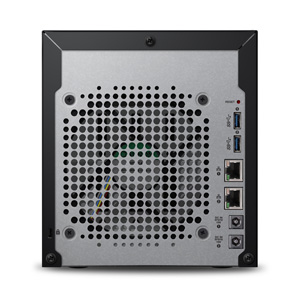 Rear View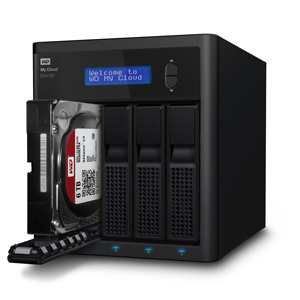 Drive Pull-Out View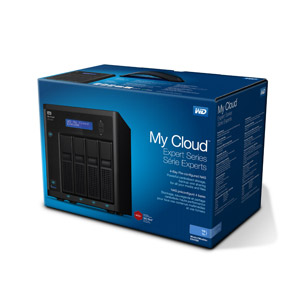 Package