WD My Cloud Home & My Cloud Home Duo

Personal Cloud Storage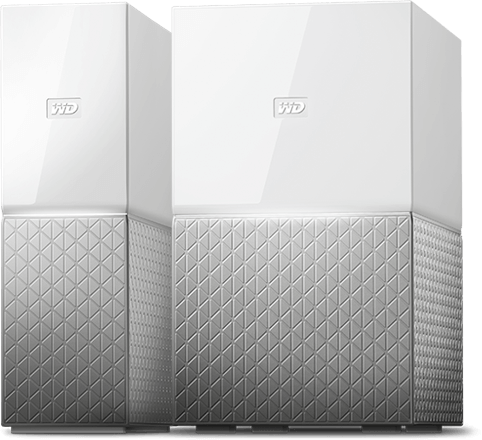 Save everything at home. Access it anywhere.
My Cloud™ Home is an easy-to-use personal cloud storage device that plugs directly into your Wi-Fi® router at home so you can save all your digital content in one central place. Unlike a NAS, it's a simple centralized solution to back up your photos, videos and files, and have it stored in one place. With the My Cloud Home app, you can access, upload and share your content from anywhere with an internet connection.
Documentation:
Download the My Cloud Home Data Sheet (PDF).
2TB MY CLOUD HOME PERSONAL
Capacity: 2 TB
Interface: Gigabit Ethernet, USB 3.0
3TB MY CLOUD HOME PERSONAL
Capacity: 3 TB
Interface: Gigabit Ethernet, USB 3.0
4TB MY CLOUD HOME PERSONAL
Capacity: 4 TB
Interface: Gigabit Ethernet, USB 3.0
6TB MY CLOUD HOME PERSONAL
Capacity: 6 TB
Interface: Gigabit Ethernet, USB 3.0
4TB MY CLOUD HOME DUO
Capacity: 4 TB
Interface: Gigabit Ethernet, USB 3.0
6TB MY CLOUD HOME DUO NAS
Capacity: 6 TB
Interface: Gigabit Ethernet, USB 3.0
8TB MY CLOUD HOME DUO
Capacity: 8 TB
Interface: Gigabit Ethernet, USB 3.0
12TB MY CLOUD HOME DUO
Capacity: 12 TB
Interface: Gigabit Ethernet, USB 3.0
16TB MY CLOUD HOME DUO
Capacity: 16 TB
Interface: Gigabit Ethernet, USB 3.0
20TB MY CLOUD HOME DUO
Capacity: 20 TB
Interface: Gigabit Ethernet, USB 3.0