WD My Passport Wireless

Wi-Fi Mobile Storage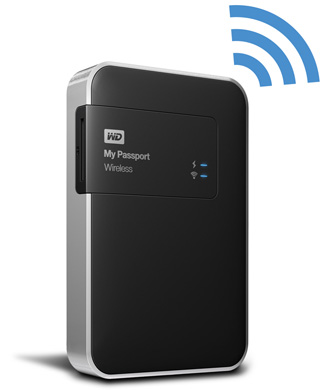 Sorry, this product is no longer available, please contact us for a replacement.
Overview:
Every device. One drive. No wires.
My Passport Wireless is the one wireless drive for all your devices. Save images and files with no need for wires or Internet. Free up space on your tablet and smartphone. And backup or transfer your photos and videos from your SD card. It's one drive with no boundaries.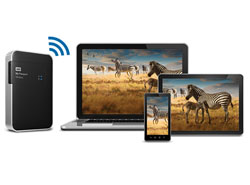 Back up or transfer photos and videos from your SD card.
Instantly access your media and files with multiple connected devices, all at the same time. Photographers and videographers can back up or transfer files from their SD card in the field to keep on shooting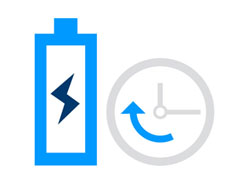 Stay mobile with the long-lasting, rechargeable battery.
Get up to 6 hours of continuous video streaming with the built-in, rechargeable battery.
Features:
You're more attached with no attachments
Free of wires and the Internet, My Passport Wireless lets you connect with up to 8 devices at the same time.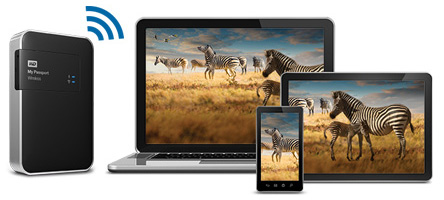 Built-in SD card slot
Transfer or back up photos and videos from your SD card in the field so that you can keep on shooting. Plus, you can instantly share your creations using any device connected to the drive.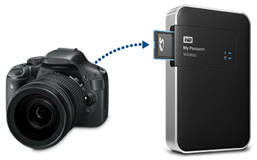 Rechargeable battery to keep you going
Stay mobile with the long-lasting, built-in, rechargeable battery. Get up to 6 hours of continuous video streaming and up to 20 hours of standby time.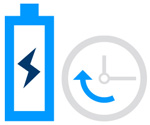 Wirelessly connect with your mobile devices
Interact with your media files using your tablet and smartphone with WD's My Cloud mobile app. Save and access your files securely from anywhere on any iOS or Android device.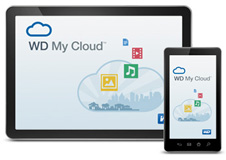 Stream media to connect devices
Stream videos, photos and music to connected TV's, media players, gaming consoles and other DLNA/UPnP devices.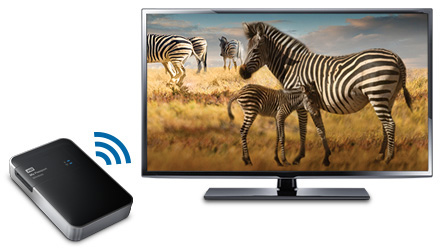 Internet sharing
Use My Passport Wireless as a Wi-Fi hub to share an Internet connection with multiple devices.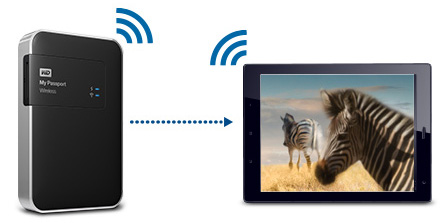 Keep your private stuff private
Feel secure from unauthorized access with Wi-Fi password protection for every photo, video, music and important file you save. Plus, protect your drive from USB access using Drive Lock in the device dashboard.

You're in control
Configure, manage and diagnose your drive using the intuitive dashboard. Run drive diagnostics, format your drive, register your drive and more.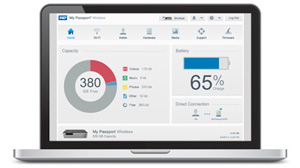 Ultra-fast USB 3.0
Quickly transfer large amounts of data to the drive using the ultra-fast USB 3.0 port.



WD reliability
WD knows your data is important, so we build our drives to demanding requirements for durability, shock tolerance and long-term reliability. And for peace-of-mind, we back up our reliability with a 2-year limited warranty.
Specifications:


Examples of the number of photos, songs, videos and any other files that can be stored on a hard drive are provided for illustrative purposes only. Your results will vary based on file size and format, settings, features, software and other factors.
Photo: Figures represent the average number of photos taken with a 6 megapixel camera in high-resolution JPEG mode with an average file size of 3.5 MB per photo. The actual number of images will vary by camera model and compression setting.
Hours: The DV format, regardless of its mode (miniDV, DVCAM, DVC-Pro) has a data rate of approximately 25mb/s (mega-bits per second). In storage terms, this translates to approximately 3.5MB/s (Megabytes per second) or 13GB/hr (Gigabytes per hour)
Song: Music capacity is based on 4 minutes per song. MP3 capacity is based on 128 Kbps bit rate and 11:1 audio compression ratio. Uncompressed CD quality is based on 1:1 audio compression ratio.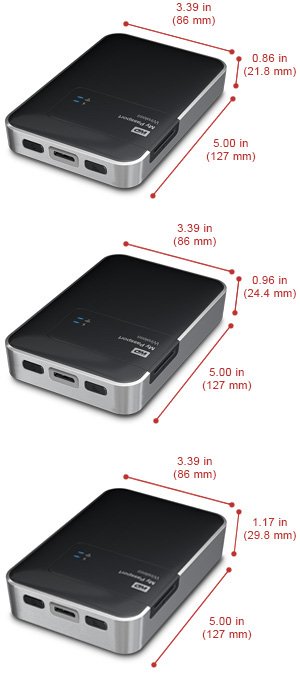 As used for storage capacity, one megabyte (MB) = one million bytes, one gigabyte (GB) = one billion bytes, and one terabyte (TB) = one trillion bytes. Total accessible capacity varies depending on operating environment. As used for buffer or cache, one megabyte (MB) = 1,048,576 bytes. As used for transfer rate or interface, megabyte per second (MB/s) = one million bytes per second, megabit per second (Mb/s) = one million bits per second, and gigabit per second (Gb/s) = one billion bits per second.
Drive Size
500 GB
1 TB
2 TB
Model Number
WDBLJT5000ABK
WDBK8Z0010BBK
WDBDAF0020BBK
Interface
Wireless-N with MIMO
SD card slot
USB 3.0
Data transfer rate1
USB 3.0 up to 5 Gb/s
SD 2.0 up to 25MB/s
2x2 Wireless-N
System Compatiblity
Formatted ExFAT for Windows Vista, Windows 7 or Windows 8 operating system and Mac OS X
Compatibility may vary depending on user's hardware configuration and operating systems.
Operating temperature
0° C to 35° C (32° F to 95° F)
Non-op. temperature
-20° C to 60° C (-4° F to 140° F)
Height
0.86 in (21.8 mm)
0.96 in (24.4 mm)
1.17 in (29.8 mm)
Length
5.0 in (127.0 mm)
5.0 in (127.0 mm)
5.0 in (127.0 mm)
Width
3.39 in (86.0 mm)
3.39 in (86.0 mm)
3.39 in (86.0 mm)
Weight
0.55 lb (0.25 kg)
0.60 lb (0.27 kg)
0.77 lb (0.35 kg)
Limited Warranty
2 Years Worldwide
Package Contents

Wi-Fi mobile storage
USB cable
USB power adapter
Quick install guide
1 A USB 3.0 host and USB 3.0 certified cable are required to obtain USB 3.0 speeds.
Drive Views: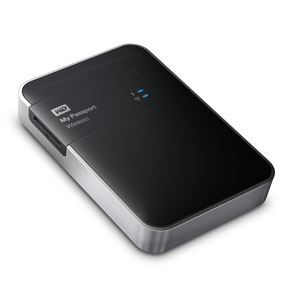 Front Angle View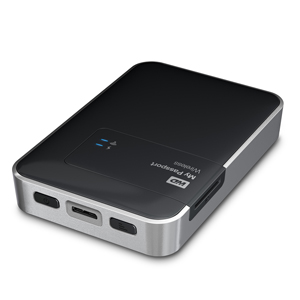 Rear Angle View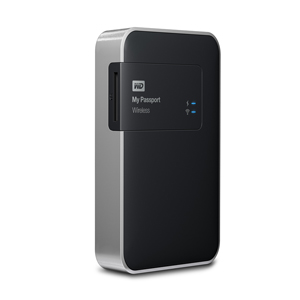 Right View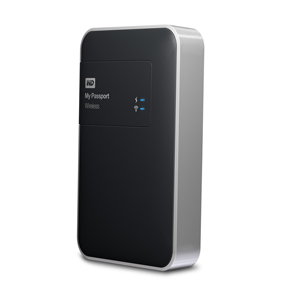 Left View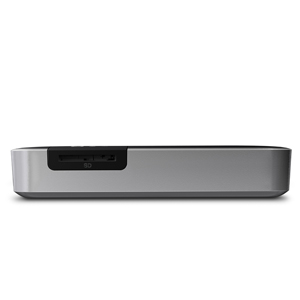 Side View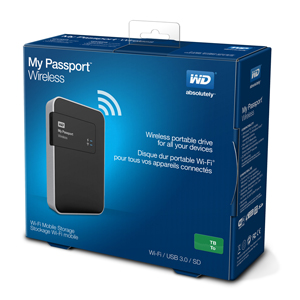 Package
Pricing and product availability subject to change without notice.
Western Digital Products
Accessories
My Passport Wireless Pro Soft Case
#WDBDRF0000NBK-WASN
Our Price: $16.12
My Passport Wireless Pro Hard Case
#WDBNAR0000NBK-WASN
Our Price: $17.54